Welcome to Copernicus Gesellschaft e.V.
Copernicus Gesellschaft e.V. is a non-profit society, registered in Germany, and aims to promote international collaboration in the geo- and space sciences. The society was founded in 1988 by directors, scientists, and administrative staff of the Max Planck Institute for Aeronomy (today Max Planck Institute for Solar System Research − MPS).
Copernicus Gesellschaft e.V. is the exclusive partner of Copernicus Meetings & Publications, a professional congress organizer and open-acess publisher who serves scientific associations and institutions worldwide.
We invite you to learn more about our society, its History, Members, Statutes, and our Copernicus Medal that we award to recognize individuals with outstanding and innovative scientific achievements in geosciences, planetary or space sciences who have also accomplished fruitful work for the promotion of international collaboration in the sciences.
Please feel free to contact us. Thank you very much.
Prof. Dr. Hermann Lühr, secretary
Martin Rasmussen, treasurer
Call for Copernicus Medal 2021 suspended
The Copernicus Medal 2020 has been awarded to Dr. Justin C. Kasper. But due to the COVID-19 pandemic the award ceremony could not take place on 5 May 2020 in the course of the EGU General Assembly 2020. This celebration of medal award had therefore been postponed to the EGU General Assembly 2021.
However, we regard it as unpredictable what kind of COVID-19 restrictions will be around in Spring 2021. It is therefore uncertain, in which format the EGU2021 meeting can take place, and whether we have the chance of a medal award ceremony in the usual form. If not, we have to think of a medal handover in a different way.
As a consequence, we, the members of the Copernicus e.V., decided to suspend the Copernicus Medal 2021 application and in this year will not send out a call for candidate suggestions.
We are all looking forward to the return to normal conditions and plan to issue the next call for nominations in summer 2021 for the Copernicus Medal 2022. We wish all members of the international geo- and space sciences community, as well as their families and colleagues, all the best during these uncertain times.
Hermann Lühr and Kristian Schlegel
Copernicus Medal Coordinators
We participate in the Deutschlandstipendium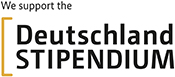 We are on! With our participation in the Deutschlandstipendium, we support particularly talented and committed students at the University of Göttingen. The Copernicus Gesellschaft e.V. is happy to support five scholarships.